PATTILLO OPEN AWARD $7000
+ The Pattillo Project
a solo artist showcase exhibition at the Sarjeant Gallery in 2024
+ An artist website courtesy of Two Monkeys Design Studio
+ Making It: Capability Building for Creatives courtesy of Whanganui & Partners
DALGLEISH ARCHITECTS EXCELLENCE AWARD $1000
+ Making It: Capability Building for Creatives courtesy of Whanganui & Partners
ARTICLE & MONEY POPPINS EXCELLENCE AWARD $1000
+ Making It: Capability Building for Creatives courtesy of Whanganui & Partners
WHANGANUI YOUTH COUNCIL, YOUTH RECOGNITION AWARD $200
8 MERIT AWARDS OF $250 EACH sponsored by Friends of the Sarjeant Gallery, River City Picture Framers, Recaffeinate, Renata's Art & Framing, Whanganui Garden Services, Edith Collier Trust, Whanganui River Markets Trust, Barnicoat & Co
Pattillo Whanganui Arts Review judge for 2022
Dr Chelsea Nichols is a curator and writer who lurks in the strange, dark corners of art history. She is currently the Senior Curator at The Dowse Art Museum, where exhibitions have included The Truth Is Out There, Candy Coated and Lost Heads & Hobgoblins, and she writes the popular online blog The Museum of Ridiculously Interesting Things. Previously, Nichols was the Curator of Modern Art at Te Papa (2013-2019) and studied the University of Oxford (2014) where she wrote her doctoral thesis on human curiosities in contemporary art. She is also one half of Curator of Screams, an on-going collaboration with City Gallery curator Aaron Lister exploring the connections between art and horror.
Dr Nichols says: "I am so honoured to have been invited to judge the Pattillo Award this year, which always offers up such an eclectic and exciting feast of artworks. Creativity just seems to ooze out of the Whanganui region, and I fully expect to be totally surprised, fascinated and delighted by this year's offerings!"
THE 2022 PATTILLO WHANGANUI ARTS REVIEW
In 2022 the Pattillo Whanganui Arts Review will be staged at the Sarjeant Gallery Te Whare o Rehua Whanganui in November rather than its usual time slot March to May. To find out more. read the press release here
Key dates are as follows:
| | |
| --- | --- |
| Tuesday 1 November 2022 | 2022 Pattillo Whanganui Arts Review submissions day |
| Tuesday 8 November 2022 | Collection of unselected Arts Review Works |
| Friday 11 November 2022 | Opening event and awards ceremony for the Arts Review |
| Saturday 12 November 2022 – Sunday 26 Feb 2023 | Pattillo Whanganui Arts Review exhibition period |
What the Arts Review can do for you
The Pattillo Whanganui Arts Review is created to showcase the Whanganui region's artistic output each year, and as such is recognised as a great place to see what's hot, what's happening, who's new, who's still working and who's simply had a go.
BE SEEN
Each year a radical mix of emerging and established, amateur and professional artists enter. Some of them are secondary or art school students, some highly experienced practitioners, others self-taught and others still at the very beginning of their journey in art. The selection process is blind – works are selected on their merit alone.
STAND SHOULDER TO SHOULDER WITH OUR REGION'S ARTISTS
Every year a broad range of works are submitted, ranging from life-size classical recycled plastic sculptures to slip cast porcelain and absolutely everything in-between. Entrant ages range from 13 – 80 years old.
AGE DOESN'T MATTER, JUST DO YOUR THING
Such a wildly eclectic exhibition contains many surprises and delights and is amongst our most popular exhibitions each year.
SO MANY EYEBALLS!
Amongst the many visitors to the Arts Review exhibition are out of towners, drawn by Whanganui's temperate climate, our beautiful natural environment and the city's built heritage. As most of the Arts Review works are available for purchase, the exhibition attracts a lot of interest and every year we welcome, writers, journalists, editors, curators, dealers and collectors from all over New Zealand.
SELL YOUR WORK AND START YOUR OWN ART COLLECTION
The Whanganui Arts Review is New Zealand's longest running, open call, community art exhibition and one of the last remaining two. Its reputation is widely known and respected.
A 35 YEAR HISTORY OF SHOWCASING ART AND SUPPORTING ARTISTS
Each year the Sarjeant Gallery invites an esteemed and highly regarded art world professional to judge the Arts Review. This person selects the 11 winners including the Open Award winner, who is offered the Pattillo Project for the following year.
GET NOTICED BY THE ART WORLD
There are 11 awards with prizes to win – from the Youth Award of $200 and Merit Awards $250 to two Excellence Awards worth $1000 each and the $7000 Open Award.
WIN SOME CASH
The main prize is the Open Award, and every year this is eagerly anticipated. It has been won in the past by early, mid and late career artists and amateur artists also, practicing in almost every different media imaginable.
WIN THE OPEN AWARD AND BE INVITED TO BE THE PATTILLO PROJECT RECIPIENT
The Pattillo Project is a solo artist showcase in the Project Gallery at the Sarjeant Gallery Te Whare o Rehua Whanganui the following year. The Pattillo Project recipient is supported by the Gallery team to bring to life an exhibition worthy of a major gallery.
HAVE A SOLO SHOW AT ONE OF NEW ZEALAND'S BEST REGIONAL PUBLIC GALLERY'S
The Pattillo Whanganui Arts Review is intended to be a true reflection of the Whanganui region's creative energy. It is open to artists of any age, who live in the Whanganui region or an area that links to the Whanganui River including Whanganui, Ruapehu, Rangitikei and South Taranaki. Also, any student enrolled at Whanganui UCOL studying towards a degree, diploma or certificate in Creative Industries is eligible to enter.
Works of all media are acceptable for entry – though due to space issues very large works are discouraged.
Please see the map which indicates the areas eligible for entry to the 2022 Pattillo Whanganui Arts Review.
ABOUT THE REVIEW
The Pattillo Whanganui Arts Review is a community event which is open to all people living in the eligibility region as detailed below, with submitted works having been completed in the last twelve months. The exhibition is intended to be an annual showcase of the current creative output of the Whanganui region.
ELIGIBLE WORK
Any original artwork in any medium, completed in the last twelve months by any artist living in the Whanganui region or an area that links to the Whanganui River including Whanganui, Ruapehu, Rangitikei and South Taranaki. Also, any student enrolled at Whanganui UCOL studying towards a degree, diploma or certificate in Creative Industries is eligible to enter.
2022 ACCEPTANCE OF WORKS
(1) One work per artist may be submitted. Diptyth and triptych's are accepted as a single work. Please provide installation instructions for multi-part works.
(2) No wet artworks or works that may emit offensive odours will be accepted.
(3) Work selected for the 2022 Pattillo Whanganui Arts Review must remain on display for the duration of the exhibition.
(4) Work must be clearly labelled on the back with the artist's name, address and title of work.
(5) Entries must be ready to be installed in a manner that is safe and facilitates straightforward presentation i.e. framed where appropriate and with D-ring hanging devices (see diagram). If not, works may not be accepted.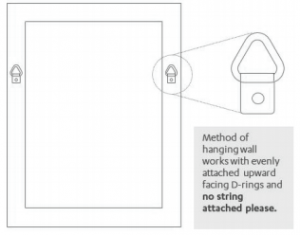 (6) All works with an electrical component must be accompanied by a current Safety Certificate from a Master Electrician. Where we have concern as to safety, security, size or other exhibition issues with a specific work this will be discussed with the artist and if the work needs to be withdrawn, the artist will be refunded their entry fee.
(7) Because of potential spatial constraints very large artworks or installations may not be accepted. If you have any questions about the eligibility or installation of your work please contact registrar@sarjeant.org.nz
ARTIST'S STATEMENT
This is optional and is limited to a maximum of 60 words. It should be submitted in a Microsoft Word document to info@sarjeant.org.nz with the artists name, address and title of work.
RECEIVING DATE AND LOCATION
Each work must be delivered to Sarjeant on the Quay on Tuesday 1 November 2022, between the hours of 10.30am and 4.30pm. No late entries will be accepted.
WHANGANUI YOUTH COUNCIL YOUTH RECOGNITION AWARD
If you are aged between 12 and 24 years on receiving day you are eligible to enter the Whanganui Youth Council Youth Recognition Award valued at $200. Please bring ID with you on receiving day. All youth entries will also be considered for the Open, Excellence and Merit Awards. 
JUDGING
(1) All work will be subject to selection by a panel of three. The decisions of both the panel and the judge are final and no correspondence will be entered into.
(2) The panel comprises a Sarjeant Gallery curator, a locally-based art expert and an out of town gallery professional.
NOTIFICATION
Entrants will be advised as to the outcome of the selection process on Monday 7 November by email. If emails are unavailable or illegible, a letter will be sent out on this date.
ENTRY FEE
No refunds will be given. • $30 for non-members. • $15 for Friends of the Sarjeant (AKA Members) • $15 for students with their student ID
COPYRIGHT / IMAGES
While we will endeavor to protect copyright, work is submitted at the artist's own risk. Any work received into the exhibition may be used for promotional purposes by the Gallery and may be photographed by the public.
RESPONSIBILITY
While in the Gallery all works are covered by the Gallery's insurance policy. Insurance for works in transit to and from the Gallery is the responsibility of the owner. The Gallery does not accept responsibility for damage caused by a third party not associated with the Gallery.
COLLECTION OF WORK
(1) Collection of work by anyone other than the artist must be authorised in writing by the artist.
(2) Works not selected for the exhibition must be collected on Tuesday 8 November 2022, between the hours of 10.30am and 4.30pm. At the conclusion of the exhibition work must be collected on Monday 27 February 2023, between the hours of 10.30am and 4.30pm. The Gallery will not store works after this date.
(3) If your artwork is purchased, it will not be available for collection until after the exhibition ends.
Frequently Asked Questions
Can I have some feedback about my work?
The judge will make comments about the award winning pieces at the Arts Review awards presentation at the opening night. Feedback on works not selected to receive an award will not be available.
My work won't be ready on submission day.
Unfortunately no works can be accepted after submission day.
I haven't heard if I have been accepted or not, what shall I do?
Letters or emails will be sent to each artist via the email and postal addresses supplied on the submission form. We will also upload a catalogue with all works included in the Arts Review exhibition to the Sarjeant website. Works not accepted into the Arts Review must be collected from Sarjeant on the Quay on the collection day date stated.
My work was not accepted into the Arts Review exhibition, but I cannot collect it on the collection day – what can I do?
A nominated person may collect your work for you, with prior written consent. Collect it as soon as you can. Works will not be stored at the Gallery one month after the collection date
My work was not accepted into the Arts Review exhibition, can I get a refund of my entry fee?
No. As stated on the entry form we are not able to refund entry fees due to the staging costs involved in the Arts Review.
Can I donate my work to the Sarjeant Gallery collection?
I don't want it to be for sale.
That is fine, please leave that section of the entry form blank.
What is the criteria for selection into the Arts Review exhibition?
The selection panel is made up of three people who work in the art world, these people change every year.
What could I win?
There is one $7000 Open Award which comes with the offer of the Pattillo Project – a solo artist showcase exhibition for the winning artist the following year (or time to be decided in consultation with the Sarjeant Gallery). There are two $1000 Excellence Awards, 8 Merit Awards worth $250 each and a Youth Recognition Award
Do I have to accept the Pattillo Project solo artist showcase exhibition if I win the Open Award?
No. You can refuse the Pattillo Project.
If I refuse the Pattillo Project would I forfeit the $7000 prize money?
What is the Arts Review judge's criteria?
Each year a different judge takes on this honour and each individual will have a differing set of criteria. All invited judges are respected gallery professionals and experienced in viewing and selecting works for exhibition. The judge will make their decision from the works selected by the selection panel for the Arts Review exhibition.